Introduction
The Apps node allows administrators to add, remove, and organize apps. Apps refer to the solutions with which end users interact—the dashboard, its rules, permissions, restrictions, and workflow.
This article covers:
Navigating to the Apps node.
The Apps node's layout and functionality.
Resources for further learning.
Tip: Explore other ways administrators can customize and configure applications and apps here.
Navigation
Follow the instructions below to go to the Apps node.
Go to Administrator and select an application.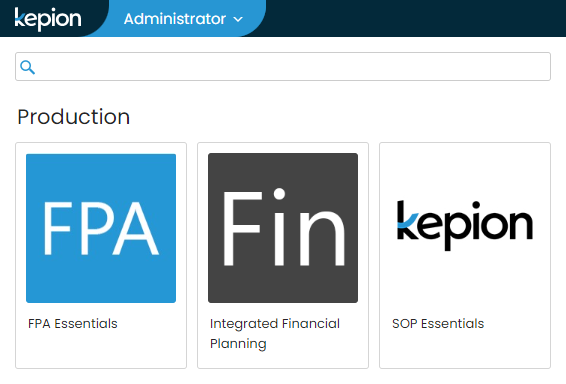 You will land on this page:

If you leave the node, you can return to it using the left navigation: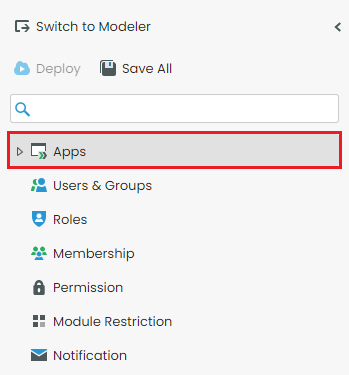 View apps
Upon reaching the node, you will see a list of all the application's apps. The column values provide key information about each app.
| Column | Description |
| --- | --- |
| App | Name of the app. |
| Folder | Name of the app's folder. Learn more. |
| Modified By | Last user to modify the app. |
| Modified Date | Date and time the app was last modified. |
Manage apps
The Apps node offers the following actions to manage an application's apps.
Add
Add an app using a dashboard.
Remove
Removes selected app(s).
Manage folders
The Apps node offers folders to help organize apps in the Apps and Administrator modules.
Apps
Folders have a corresponding group in the Apps module.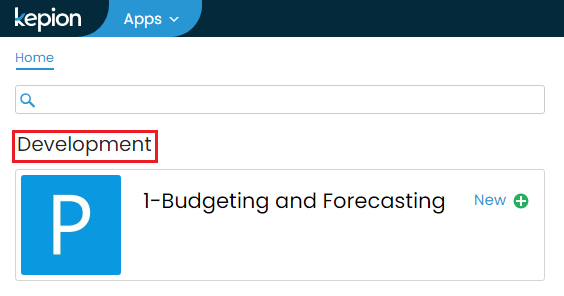 Administrator
Folders have their own corresponding node in the Administrator module.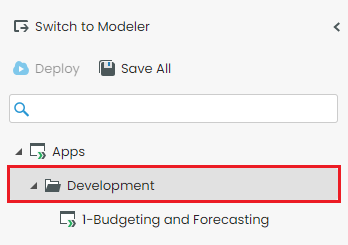 Folder nodes offer the same actions and columns as the Apps node, but you will see only the apps in that folder.
Create/edit folders
1. Hover over a listed app and select the Edit icon (
).

2. Enter a folder name.

3. Select Save All.

Remove apps from a folder
1. Hover over a listed app and select the Edit icon (
).
2. Delete the folder name and select Save All.
Delete a folder
Repeat steps 1 and 2 from the previous section for all apps in the folder.
Resources