Author: Joyce Zhou
Introduction
When users first open/start a dashboard, form filters are initialized to the default members which are setup in the Modeler. Once that app is saved, all filter selections are saved and will be associated with that app going forward.
Example
The saved filter settings for an app are stored to the dbo.[Filter_Planning] table. Currently, the only mechanism to shift existing filters to a new member, is by updating the dbo.[Filter_Planning] table.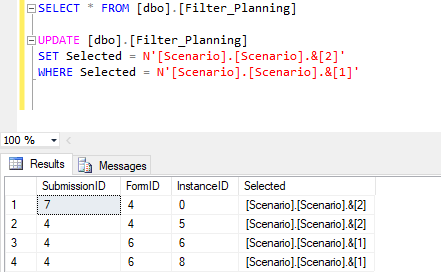 Once the table is updated, users will see the latest setting once they re-enter the existing apps from the Apps page or if they click F5 within the Dashboard.