Author: Kepion Product Team
Introduction
For performance testing and optimization, it's useful to measure the raw performance of a Form refresh (how long it takes to refresh the Form from a cold start). In order to do this, you need to ensure the SSAS cache is cleared before you measure any response times.
Example
Here's what we need to do:
Step 1. Connect to your Analysis Server. Open a new XMLA query.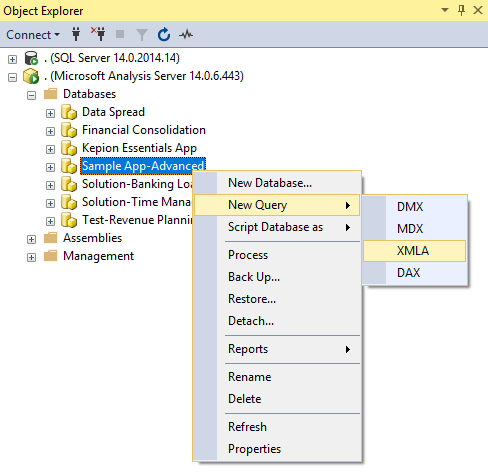 Step 2. Paste the following code into the query. Change the DatabaseID to your database name.
<Batch xmlns="http://schemas.microsoft.com/analysisservices/2003/engine">
<ClearCache>
      <Object>
         <DatabaseID>Solution-Integrated Planning</DatabaseID>
      </Object>
   </ClearCache>
</Batch>
Step 3. Run the query.