Introduction
Kepion's System module allows system admins to manage applications, identity providers, other system admins, and the environment.
The System module will only be visible to system admins. Add system admins by using the System Admins node in the System module. Only users who need to manage applications and the environment should be system admins. 
This article covers:
Navigation
Using the module dropdown navigation, go to System.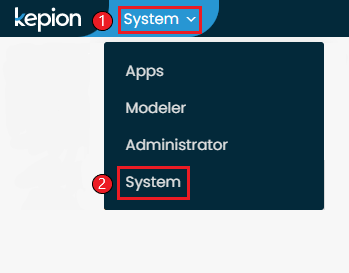 You will land on the following page: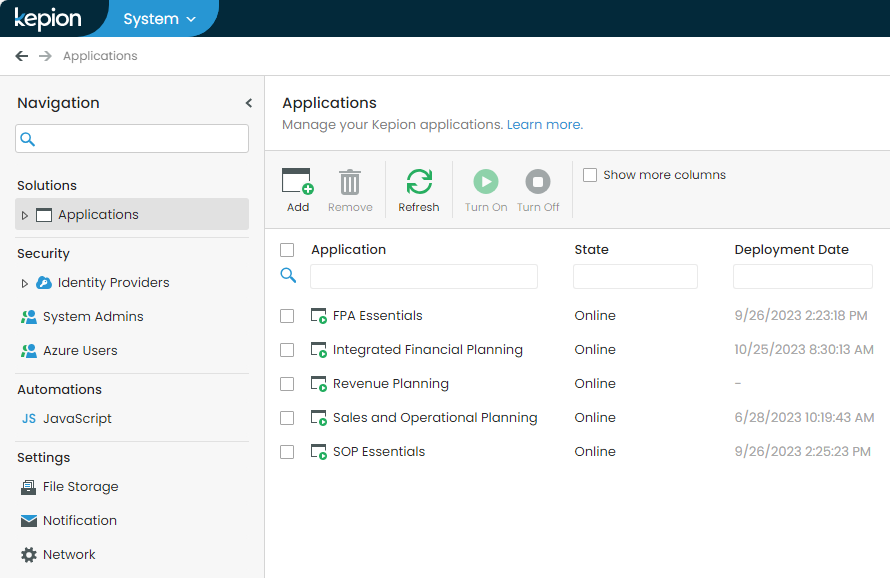 Nodes
Review the information below to gain a basic understanding of what each node offers. Please explore the linked articles for more in-depth information on the options available in each node. 
Tip: Nodes are located in the left navigation.
| Node | Description |
| --- | --- |
| Applications | Manage your Kepion applications. Learn more. |
| Applications > Application | Manage an application's settings. Learn more.  |
| Identity Providers | Connect with identity providers for single sign-on (SSO). Learn more.  |
| System Admins | Add, remove, and sync your Kepion system admins. Learn more.  |
| Azure Users | Add, remove, and rename Azure users in Kepion. Learn more.  |
| JavaScript | Embed custom JavaScript in Kepion. Learn more. |
| File Storage | Configure secure file sharing for apps. Learn more. |
| Notification | Enable and set credentials for app notifications. Learn more.  |
| Network | Configure network settings. Learn more.  |
Note: To see the Azure Users node, the Azure Identity Provider (AIP) must be enabled. Within the AIP, the Enterprise Application ID and the App Registration ID should have valid global unique identifier (GUID) values. Learn more.