Introduction
The Administrator module allows administrators to manage apps, the solutions containing the data, forms, and charts with which end users interact.
The Administrator module is only visible to system admins and members of the default Administrator role, which you can assign using the Membership node. Only members who need access to your entire Kepion instance should be system admins; only members who need to manage an app and its access, permissions, restrictions, and workflows should be administrators.
This article covers:
Navigation
Follow the instructions below to go to the Administrator module.
Go to Administrator and select an application.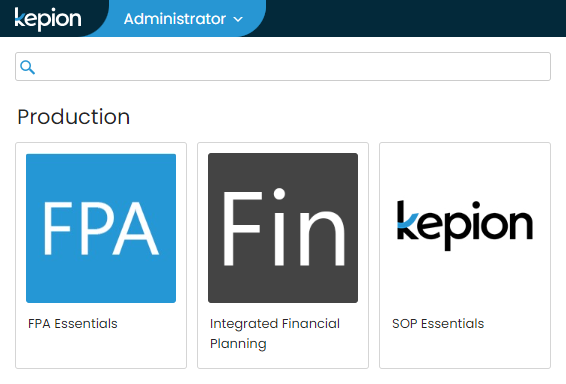 You will land on this page:

Nodes
Review the information below to gain a basic understanding of what each node or tab offers. Please explore the linked articles for more in-depth information on the options available in each node.
Tip: Nodes are listed in the left navigation. Tabs are contained within nodes and located in the ribbon.
Node
Tab
Description
Apps
Add, remove, and organize apps. Learn more.
Kepion App
Each app has a node to manage its configuration and settings. Learn more.
Configuration
Configure an app's general settings and workflow. Learn more.
User
Assign workflow roles to users and groups. Learn more.
Rule
Manage rules associated with forms on dashboard pages and rearrange the order rules run in. Learn more.
Page Restriction
Restrict user and group access to dashboard pages in an app. Learn more.
Write Restriction
Restrict user input by dimension member. Learn more.
Approval
Configure approval chains for workflows. Learn more.
App Instance
Manage app instances. Learn more.
Users & Groups

Add, remove, and sync users and groups. Learn more.

Roles

Add and remove roles to manage permissions for users and groups easily

. Learn more.
Membership

Manage a user, group, or role's members and/or memberships. Learn more.

Permission
Configure a user, group, or role's read and write permissions for dimension members and models. Learn more.
Module Restriction
Restrict user, group, and role access to module sections. Learn more.
Notification
View and customize your notification template. Learn more.